The logistics and benefits of a Backyard Swing Set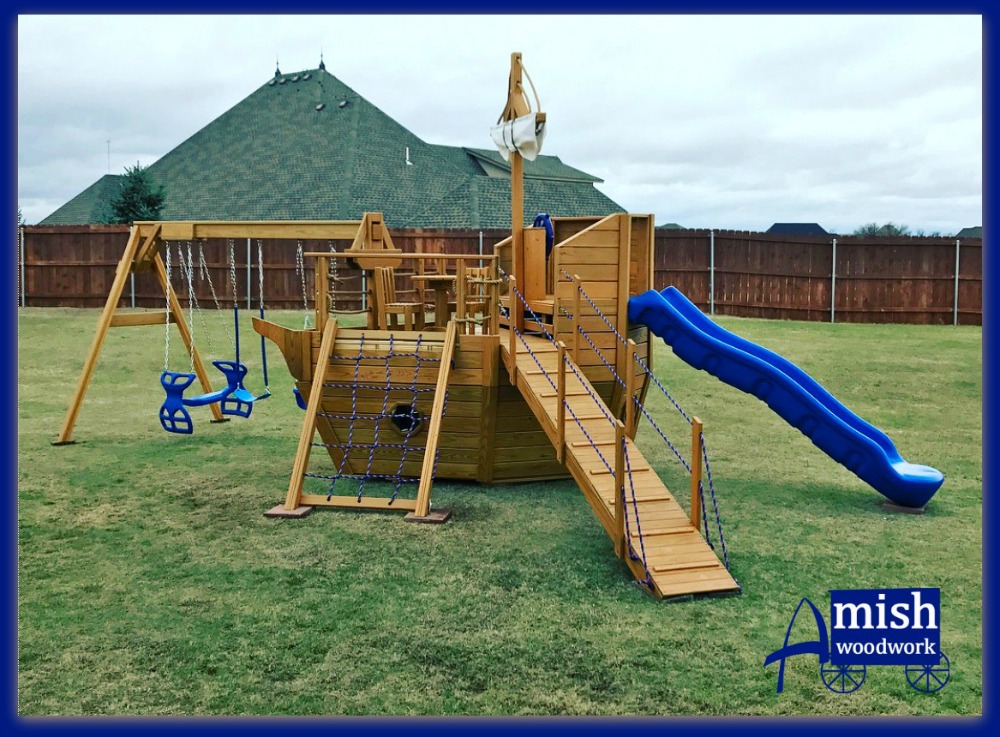 Finding a safe and/or convenient place for your kids to play isn't always easy. A swing set in your backyard is not only convenient; it's also an effective way to provide the neighborhood kids a safe place to play. Before purchasing a swing set, no matter how large or small, check that you have the proper space, the set is age appropriate and you have the correct tools and assistance to assemble the unit. Or simply let us at Amish Woodwork help you choose the appropriate swing set and install it for you. That way you can be assured that it is installed correctly. Since our swing sets are built to last a lifetime, we will be sure to install it with that in mind.
The Swing Set Location
When we look for a location to install a swing set, there are some specific things we look for. First we need a flat surface that is preferably at least 10 feet away from your home, fences, a septic tank, patio, hot tub or any other permanent structure. The area also needs to be away from electrical lines. You may have some specific ideas too. Do you want to be able to watch the kids from the kitchen window or other specific point in the house? Landscaping and lawn maintenance will also be a concern. Many times the family dog's patch of grass that it uses as its "bathroom" may be an issue too. These are things we will discuss before installing your new swing set.
The choice of swing set will also determine where it can go too. Slides, playhouses and other options will have an impact on the size of the set and therefore the placement in your backyard. Having an idea of how much space you have when you come in to Amish Woodwork will be helpful in deciding which set will be appropriate for your yard and your family.
Setting a budget
You should create a budget for your swing set. A good quality swing set is an investment for your family and neighborhood. These play sets are available in many different configurations and prices so choosing what is right for you starts with a budget.
Swing Set Choices
We are currently offering swing sets from Play Mor . This supplier provides excellent quality and safe Amish Built swing sets.
Play Mor provides wooden swing sets and play sets for backyards and families of all sizes. These swing sets are crafted from No 1 grade treated yellow pine thus allowing years of service. All the edges and been rounded and surfaces milled keeping the swing set free of sharp corners and rough surfaces. There are tons more benefits built into these play sets and feel free to check out their website. Find something you like contact us here at Amish Woodwork and we will be happy to set you up with these swing sets.
Keeping Children Active
A great thing about outdoor play sets is they keep your child actively moving along with providing a base for your child's imagination to run wild – away from TV and video games. Check out these disturbing facts from the CDC:
Childhood obesity has more than doubled in children and tripled in adolescents in the past 30 years.
The percentage of children aged 6–11 years in the United States who were obese increased from 7% in 1980 to nearly 18% in 2010. Similarly, the percentage of adolescents aged 12–19 years who were obese increased from 5% to 18% over the same period.
In 2010, more than one third of children and adolescents were overweight or obese. (CDC)
Not to scare you, but the effects of obesity in children are not good. Here are some more facts from the CDC:
Immediate health effects of childhood obesity:
Obese youth are more likely to have risk factors for cardiovascular disease, such as high cholesterol or high blood pressure. In a population-based sample of 5- to 17-year-olds, 70% of obese youth had at least one risk factor for cardiovascular disease.
Obese adolescents are more likely to have prediabetes, a condition in which blood glucose levels indicate a high risk for development of diabetes.
Children and adolescents who are obese are at greater risk for bone and joint problems, sleep apnea, and social and psychological problems such as stigmatization and poor self-esteem.
Long-term health effects:
Children and adolescents who are obese are likely to be obese as adults and are therefore more at risk for adult health problems such as heart disease, type 2 diabetes, stroke, several types of cancer, and osteoarthritis. One study showed that children who became obese as early as age 2 were more likely to be obese as adults.
Overweight and obesity are associated with increased risk for many types of cancer, including cancer of the breast, colon, endometrium, esophagus, kidney, pancreas, gall bladder, thyroid, ovary, cervix, and prostate, as well as multiple myeloma and Hodgkin's lymphoma
There's no end to the benefits of your child getting exercise, using his or her imagination and socializing with the neighborhood kids on their outdoor play set. Just think, your new swing set can help your children's physical health as well as their mental well being and self esteem!
We have lots of satisfied customer and you can see some of them on our Facebook page too.